This wasn't going to be my next post (I initially wanted to write about how having more kids actually opens up your free time) but I got a lot of feedback about the last post, specifically the #5 reaction to hearing I'm having another child  – "that's irresponsible". The driver behind that reaction was all financial fear for me and my kids – so I thought I'd take a detour and address that specific common concern about having a big family.
"kids are so expensive"
"you'll never have any money"
"how are you ever going to pay for college?"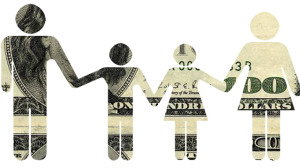 Well- in this post I'm actually going to attempt the absurd and make an argument for why having a big family has made me more prosperous than I would have been if we only had 1 or 2 kids. And I know what you're thinking-
"yeah yeah yeah- we get it, you're more prosperous because you have the love of all those children…  and how could you ever try and put a dollar value on all that love, blah blah blah Mr. Sappy dude and your stupid blog that just totally jumped the shark!"
First of all– take it easy Mr. imagined reader's grumpy sub-conscience, you kind of went a little nuts there.
Second of all- while all that sappy stuff is totally true, it also goes without saying. And it's not what I'll be writing about in this blog.
In this post,  I'm talking about the "straight cash homie" type of prosperity. That's right… I am about to argue that having more kids = having more money. Have I totally lost all credibility yet? Hear me out.
Laura and I got married and bought a house just over a year after graduating from college. I had my first corporate gig straight out of college with dreams of working my way up the corporate ladder  and Laura was a full-time nanny. Together, we had enough money to pay the mortgage, have a car and go out to the bar every other weekend with our friends.  We weren't making a ton of money, and we couldn't save much, but we had enough to live and we were content. I'll be the first to admit- things were much more simple back then.
For those first few years of marriage, before we had our first child Maddie, my work life was pretty care free for the most part. I was learning the corporate world, impressing my bosses and overall was really enjoying my work. The only bummer was that people weren't coming down from HR to throw 50% raises at me ever quarter. Don't get me wrong, I got some very fair raises and even a few promotions, but nothing that was going to substantially change my life.
And, while it bugged me a little, I wasn't that concerned about it. After all, I was still young, and hadn't put the time in yet. I told myself that those big elephant dollars would be there for me in 15-20 years down the road, after I've put my head down and proven myself.
Even when our first born came along, the timing coincided nicely with a couple of those raises.  Our bills got paid, we went out a lot and even took a few family trips.
Then the twins came..
And everything changed. All of sudden, Laura was going on bed rest, and based on what she got paid, we'd be losing money trying to pay for child care for 3 kids. Thus begun the most financially stressing period of my life…
My senior quote in high school was "What the mind of a man can conceive and believe, the mind of a man can achieve".
Yes, this quote may sound like a totally cheese and cliche high school senior quote, this quote is the cornerstone of my argument, and here is why:
I remember when I read this quote for the first time I felt so connected to it. It gave me permission to believe that I could be special, that I could dream, and that I had the power to make those dreams reality. And while it sounded cool (it even rhymed), admittedly I didn't truly understand what it meant at the time. That is, until I lived it and saw the results of it. By putting that quote to the test during some of the most stressful times of my life, I have a much greater appreciation and understanding for those 17 words.
When times were simple, I was comfortable. In my head I had a total clear vision of the world and my plan for how I would fit into it. I didn't question it, because I didn't need to. My plan was working perfectly. Things were lined up nicely for the young Pelar Esshaki, and I was setup and destined to coast on the middle class side of easy street.
THEN…. Overnight, our household income got cut in half at the same time that our family almost doubled in size. I needed a new plan. I had a HUGE responsibility all of a sudden and I couldn't wait 15 years for those big elephant dollars. Our house was shrinking, the bills were growing and our income had nose dived.
So, I worked my butt off- I had no choice.
I picked up extra coaching gigs and started bar backing at night. Every other day I would work 7-4, coach until 6 then bar back until 2:30 AM. I did that for 18 – months, and it aged me 10 years.
I was young, I was scared, I was broke, I was tired, I was stressed and I was broken. But what killed me more than anything was that I wasn't home helping my pregnant wife or playing with my 1 yr old daughter. That feeling got a whole lot worse when the twins were born. What my wife pulled off during that time was nothing short of heroic. She nurtured newborn twins with a 1 yr old running rampant and an absentee husband struggling just to try and make ends meet. And she never complained. I grew to respect her and love her more during those 18 months than at any other time in our relationship.
So- It was time to put that cheesy high school quote to the test.
CONCEIVE: I woke up in the morning thinking about how I could make more money, thought about it all day at all my jobs and stayed up all night brainstorming. What a contrast from when "things were simple" and I never wasted one second thinking about where my next dollar was coming from.
BELIEVE: My drive to get my family financially stable was literally all consuming. I was going to do whatever it took. I was obsessed. I was going to make it happen, I had no choice.
I'd gotten the family above water, but I couldn't keep up that pace. During that time I worked every angle with each attempt fueled by last nights sleepless brainstorm.
I hit every channel I could at my job but with only limited success (it was 2008 and I worked at a bank, so the odds of some massive lift were not in my favor).
I thought about making a go at the family business- but that pie was already cut into too many pieces.
So…
I started a full sales onslaught to sell myself. I put myself out there.  I called everyone who had ever given me a business card, emailed anyone I had ever worked with that was at a new company and sold the "Pelar" brand harder than it had ever been sold. This was really awkward. This was really embarrassing. This was really hard. But I had no choice – so I kept at it.
Until finally… I got a break.
It required a big risk and a leap of faith.  I had to leave a big established company that promoted me, treated me well, and was full of a bunch of people that I has grown to call family. And turn all of that that in for a chance at a small company on the upswing that while full of potential, was also full of strangers And all my potential success was going to be tied to a project that was labeled a "proof of concept"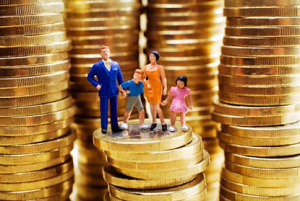 ACHEIVE: Against the advice of a lot of people that I love and trust, I took that risk….. and it's paid off in spades.
We're not rich, but we're comfortable again. We've got a house that fits our family in a neighborhood and neighbors that we love. We've got reliable cars in the driveway and still get to take those family trips. The only difference now is that instead of the bar with friends every other weekend, we do the apple orchard and Disney on Ice 🙂
So if I had to summarize my whole argument in one sentence:
Having kids forced me to get out of my comfort zone and do whatever it took to realize my potential.
The question is, have I reached my full potential yet?
Seems to reason that the only way to find out is to have a few more kids 😉