With a big family, you need a lot of help.
There are the babysitters, the grandmas, the grandpas, the neighbors and friends. When the going get's tough, we know we can count on any one of these folks to help. But as great as it is to have these safety nets to bail us out, we get help every single day from a group of people not mentioned above… This post is all about these folks and how without them, our big family wouldn't be possible.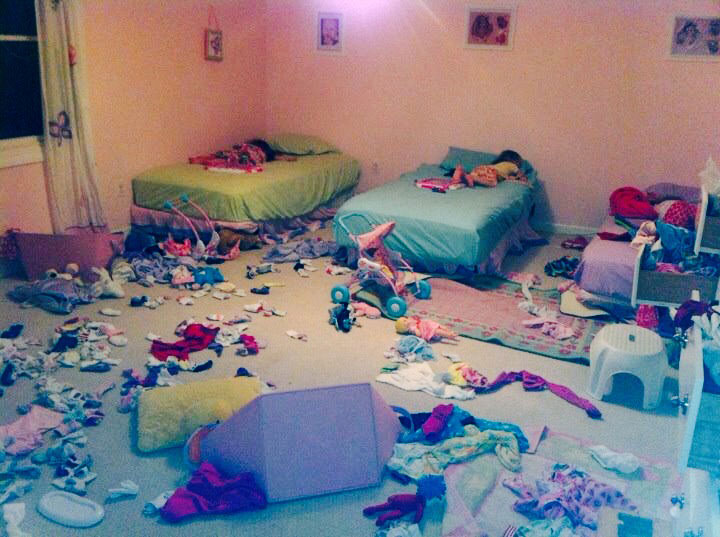 Of course, I'm talking about our kids… our biggest helpers.
The hardest it has ever been for Laura and I was from when the twins were born to when they were about 2 years old.
When it was just our oldest daughter, Maddie – we thought we had it tough. As a young married couple with no kids, we were used to complete freedom. If we wanted to go out, we threw some shoes on and we were out the door. If we needed to get chores done around the house, we could dedicate an entire Saturday with no other obligations to worry about. If we wanted to have people over, all we needed was make a few phone calls, stay up as late and be as loud as we wanted.
No worries.
But as soon as we had that first child, that all went out the window.
All of sudden, Laura and I leaving the house at the same time meant:
Packing a diaper bag
Calculating the time  and making the appropriate number of bottles
Strapping a squirmy baby into a car seat
Strapping a car seat into the car
Getting half way down the street and realizing you forgot something
Goodbye:
Sleeping 8 hours a night
Impromptu date nights
Peaceful meals
Hello:
Baby puke on everything
Taking a stroller everywhere
Diapers… Diapers… Diapers…
This was a huge adjustment for a couple of 24 year olds.
We were used to having each other and ourselves to worry about – now all we ever worried about was the baby. That was tough.
…or so we thought.
When the twins came – we found out what tough actually was.
Jim Gaffigan has a pretty funny line describing what we were feeling…
We only had three at the time, but he was spot on.
Maddie was 18 months old and we had twin newborns. Laura and I always say that was the hardest two years of our lives.
Here is a summary timeline from a typical night:
6:30 – Start corralling three babies for bedtime
6:40 – Change 3 diapers
6:50 – Put PJ's on 3 babies
7:00 – Put babies in their cribs, read a story and lights out
7:15 – Read Maddie a bed-time story and lights out
7:30 – Crash on the couch and start watching DVR'ed TV
7:31 – Ignore first set of cries from twins room
7:42 – Hit pause, go shove a pacifier in Izzies mouth.
7:43 –  Hit pause, go shove a pacifier in Sophie's mouth.
7:44 – "Seriously… who pooped?!?!"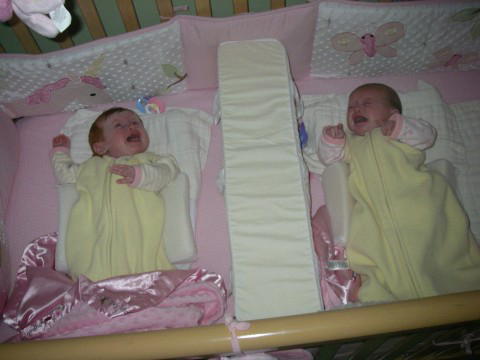 You get the gist. This would go on all night. And it only got worse when they started teething, and was almost unbearable if they ever got a fever. It's amazing we ever found time to have more kids 😉
The Struggle Was Real
Sleep, in the Esshaki house had become something that happened in the margins, and our bed became a place for laying down in between diaper changes or feedings.
Leaving the house meant a minimum of 45 minutes of packing and car seat prep. And alone time was when you only had 1 child in the bedroom with you.
We found out the meaning of tough during those two years.
So what changed when the twins turned 2??
For them… not much.
Help is On the Way
But it was a change in Maddie that made our lives much easier. When Maddie was right around 3 1/2 years old – we noticed that on her own – she'd wanted to do things to help. Very small things, but impactful nonetheless.
And when the twins got to be around 3 years old, led by the example of their older sister, they too started to help out with their 2 new younger siblings. That trend continued with Ben just before he turned 3, and now we even see it Fiona even though she just turned 2.
Don't get me wrong, as I wrote in an earlier post "It's Not All Unicorns and Rainbows", we still have a lot of craziness to deal with. But now we have a little army of big helpers that do enough to take the edge off.
So.. how can 2 year olds and 3 year olds help raise a giant family like ours, you ask?? Here are some examples of what Laura and I get to stand witness to almost every day…
Feeding
More times than not a crying child is because you have a hungry child. But when there are 6 mouths to feed, it's nice to have a bunch of mini servers to send in to keep the natives from getting restless.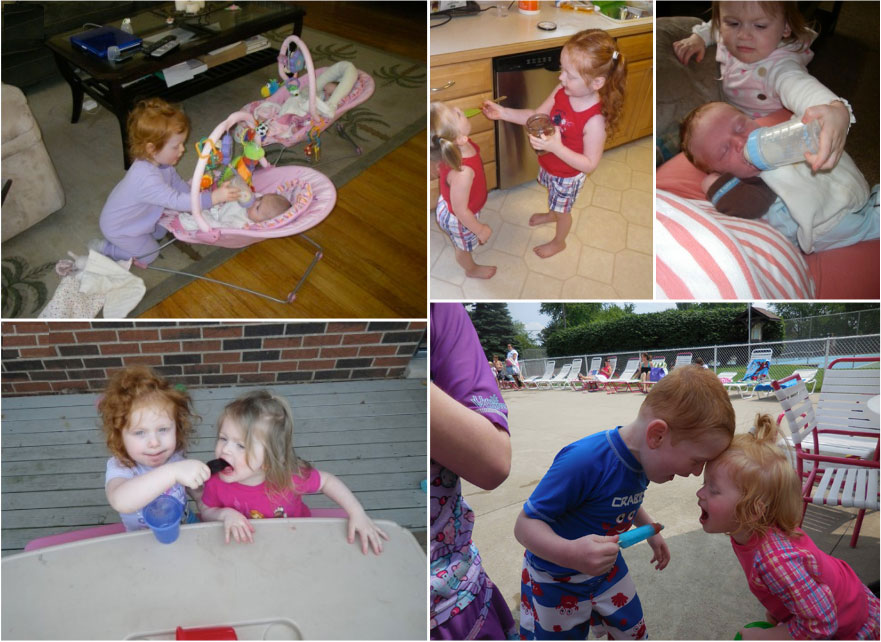 Fetching
Whether you are elbows deep into an epic diaper, or locked in a cage without your lovey, there's always an Esshaki close by to make a diaper or lovey run.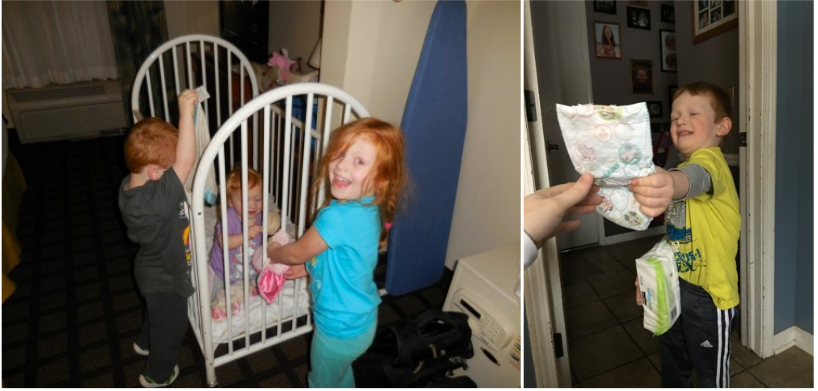 Entertaining
Our house is always full of friends whether people come over or not.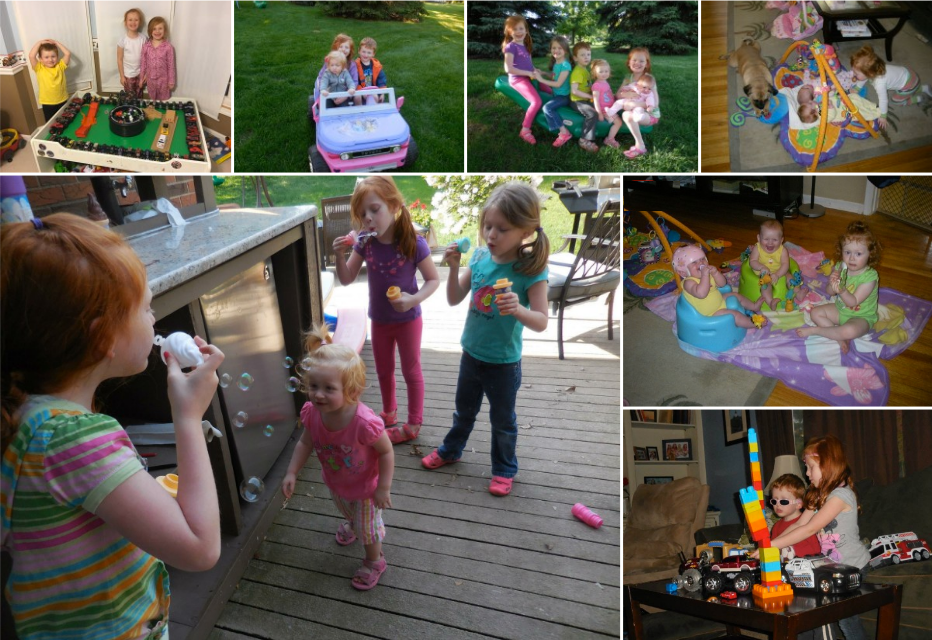 Babysitting
Whether it's for a quick shower or making dinner, we've got some built in (albeit, very part time) babysitters.
Encouraging
It's not easy being a brave 2 year old. But when you have this many siblings who have "been there" you don't really get a choice. There's no room for being scared and holding back when you have this many little hands pushing you forward.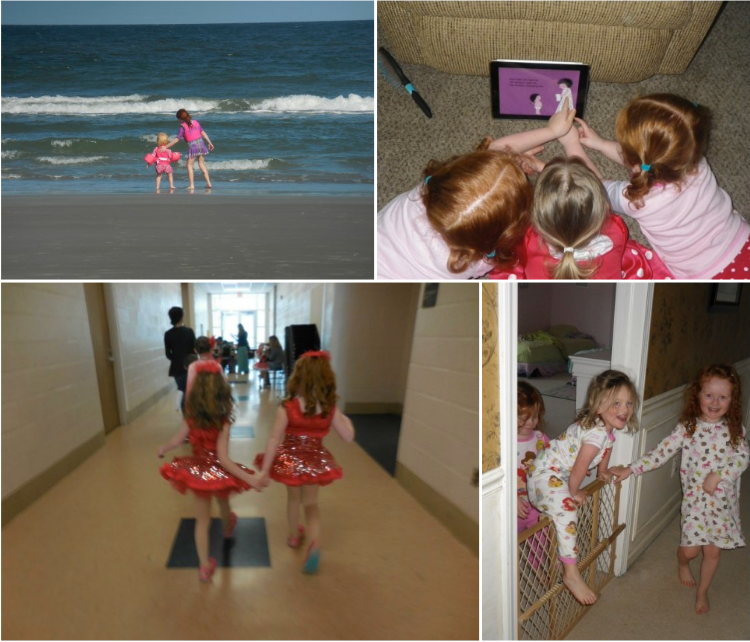 Companionship
A lot of people assume that in a big family, kids don't get enough attention. Nothing could be further from the truth. If anything these kids are probably dying for some alone time.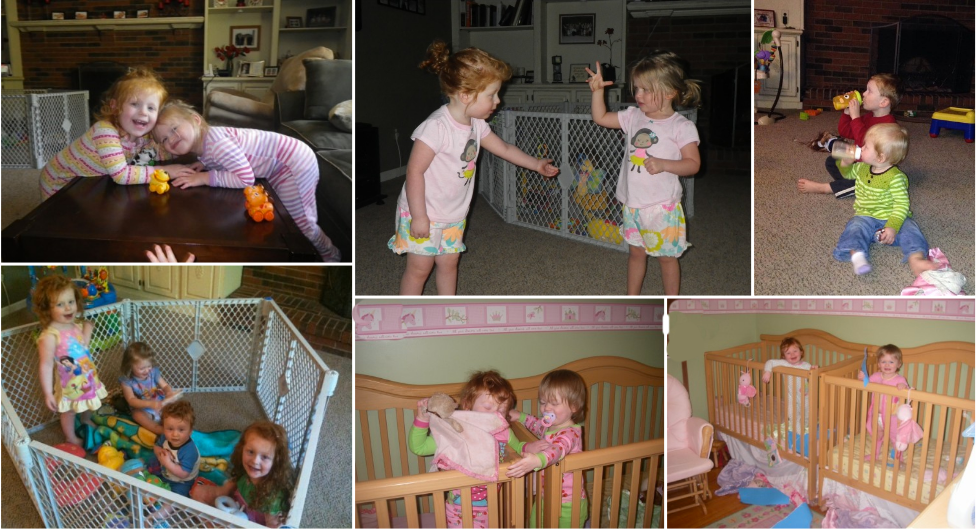 Comforting
Who could possibly be more cuddly than a sibling?!?!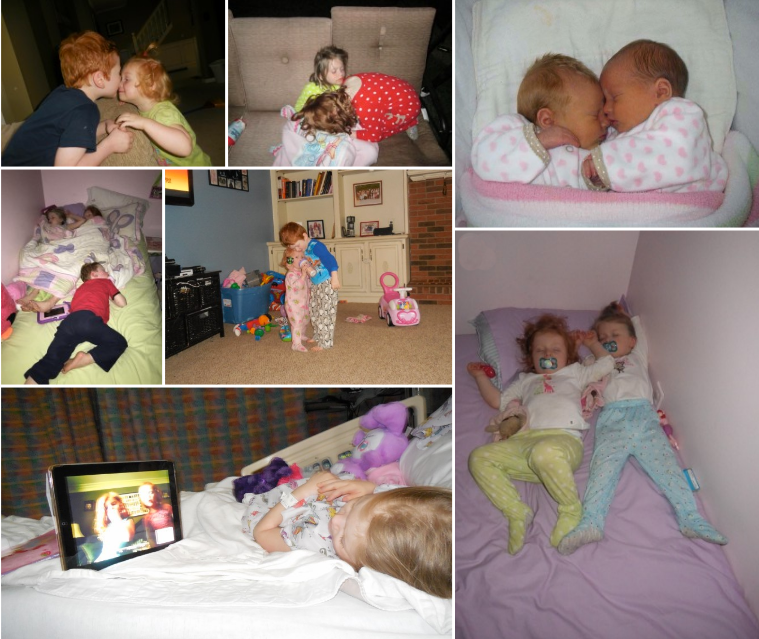 Consoling
No matter what today's drama brings, we've got 6 mini – therapists with just the right remedy.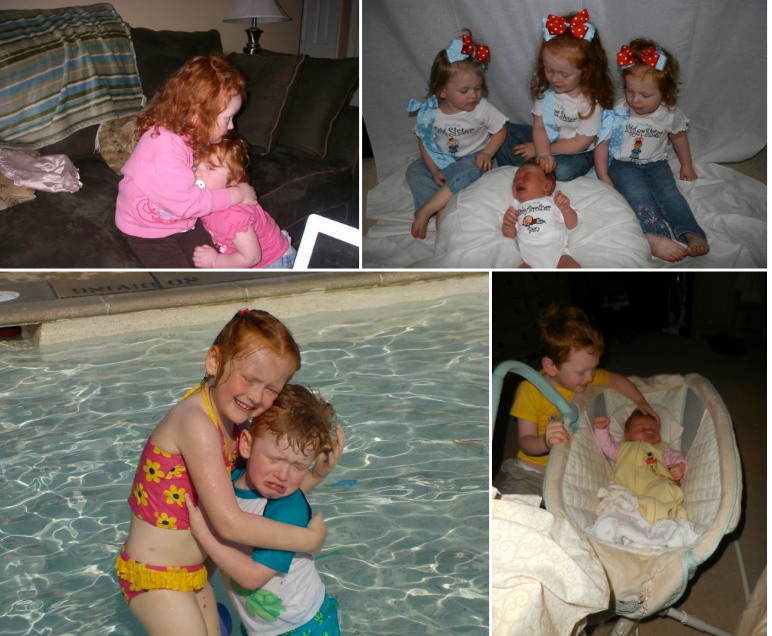 Night Time
And if your new roomie is having a hard time getting to sleep… What's better than singing her a lullaby from your crib 2 ft. away…?
For Laura and I, we still have our hands full, but our 7 little dwarfs put Happy, Sleepy and the gang to shame.