It's been forever since I've sat down at this computer to write one of these. My bad. A week, turned into a month turned into six. I have about 3 posts that are 60% complete that because of some random distraction I never finished or posted. That's my bad.
I know that it's not fair for me to expect a loyal group of readers and interest to my blog if I'm only going to post every six months, so I'll understand if the un-friend requests come flying in.
But guess what. I've got another post!
If you like it – please share it, comment, and all that other awesome Social Media stuff. Part of the reason I started the blog was because I want to pay forward some inspiration – but I need your help getting the word out.
So- Today's topic:
"What are They Thinking?!?!"
When I tell someone I have 6 kids, without a doubt the most common emotion I see on a persons face (regardless of what they actually say out loud) is Stunned. And whether it's right when I break the news, or at sometime later, at some point I know they are wondering "What are they thinking?".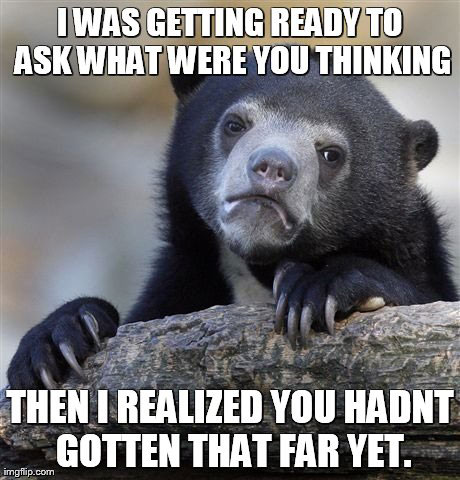 To give you a window into "What the hell are we thinking?", I'll try and explain the following:
Our Actual Thoughts
By this I mean, what runs through our heads the moments after seeing that pregnancy test read "Pregnant".
Our Faith
Our faith plays a big role in our lives, and it shouldn't come as any shock that it's a big reason for our big family.
Our History
Laura and I weren't always so fertile and our experience trying to conceive our first child, Maddie, changed our view on a lot of things. A little insight into that experience for us, will go a long way towards explaining our beliefs and our feelings around "getting pregnant".
Those "We're having a baby!?" Thoughts
Whether it was Laura telling me, or us standing side by side staring at a pregnancy test count down, there is a whirlwind of crazy intense thoughts and emotions that run through your mind and body… especially when we're talking about those "surprise" pregnancies.
I imagine that depending on the role you play in the family, a surprise new baby will elicit different thoughts.
Mom – "Can my body handle this again", "Can I handle the workload another child will bring"
Siblings – "Will this new kids get all the attention?"
Grandparents –  "Is my child going to be able to handle this responsibility?"
Those are just my guesses if I try and put myself in their shoes. But what I can be certain of, at least from my point of view as Dad, are the things running through my mind.
Actually, words probably don't do it justice, so let me share this actual photo that Laura snapped of me at the exact moment that I found out about our latest baby. (Thought bubbles added later for effect)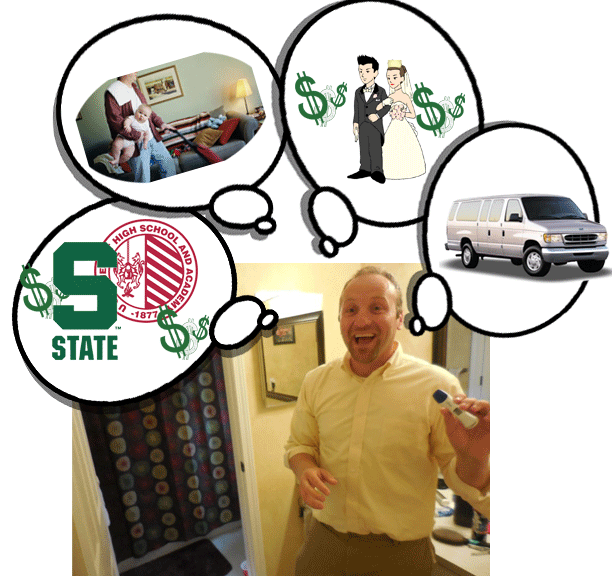 It makes sense right? As Dad – my job is to be the provider. All day, everyday I'm thinking about how I can do better to continue to provide for my family. So when I find out that we're adding to that family, my first feeling is an overwhelming sense of responsibility and increased pressure. Within those first few milliseconds, I'm not proud of it, but these are the kinds of things that run through my mind.
But I have a theory as to why this happens to me, no matter how much I love adding to my big family.
I think that these might be hard wired thoughts and fears. Programmed deep into the human brain over millions of years of evolution. I imagine these types of thoughts and fears are great motivators when you realize you are having a baby. It's a motivator to kick it into extra gear  to improve your situation within the next 9 months, and I can see how that can be very useful to perpetuating the human race.
As I mentioned in my 3rd blog post You've got a lot of kids, you must be broke:
"Having kids forced me to get out of my comfort zone and do whatever it took to realize my potential"
And while I am always a little disappointed in myself that these are the first things that run through my mind, it's not more than a few milliseconds  until the switch is flipped and these types of thoughts take over…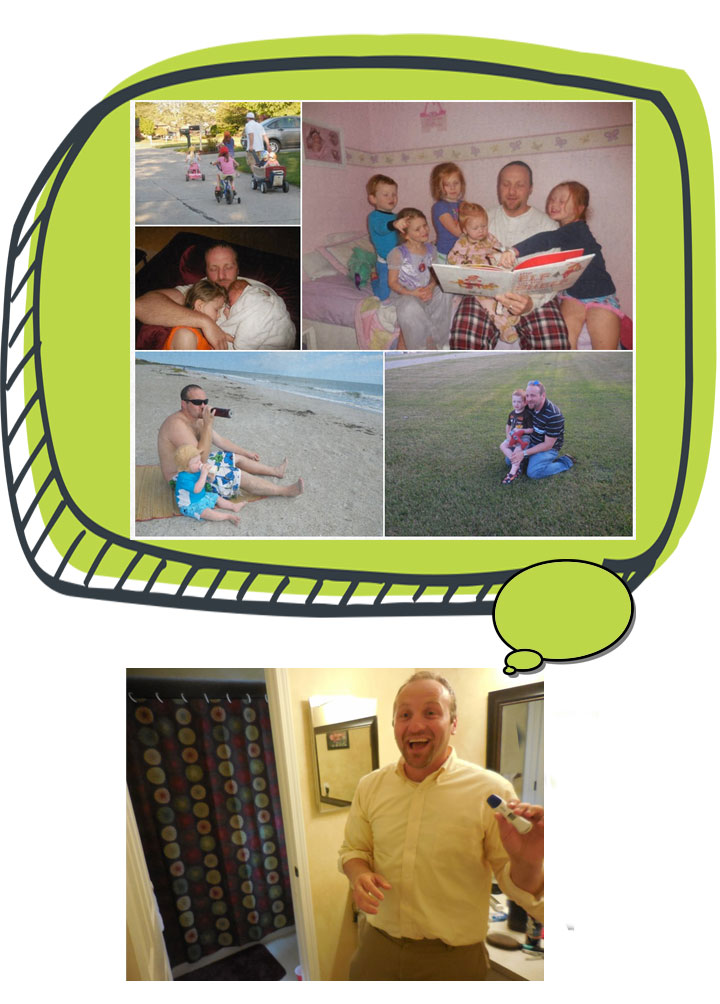 And those thoughts don't relent. Once they've overtaken, and I start to replay some of these amazing memories, emotions and feelings in my head and my heart, all those worries and fears about being the provider go away and are quickly replaced with that familiar sense of joy. And it's that feeling, and those thoughts that keep Laura and I open to having more children. Don't get me wrong, that feeling that I need to provide, doesn't disappear – they're still in there, always in there, eating away at me some nights when the bills get a little tight. It's just that… the thoughts in that first picture pale in comparison to the thoughts in that second one.
So how does that happen?!  How do I deal with all the stress that comes with this gigantic new responsibility? The short answer is… I don't have to.
Our Faith
Laura and I are both Catholic, and being catholic is a huge part of our life. If you know anything about Catholicism, you probably know that Catholics don't believe in modern forms of birth control, so I guess that would be the lazy explanation and an easy scapegoat for why we have so many kids.  And while we like to think we are holding up our end of that bargain, it's much more than just some arbitrary church ruling that has left us with such a big family, and that's because in our minds, the guidance our faith gives us is anything but arbitrary.
To put it simply, Laura and I believe that there is a plan for everyone on this earth, including us. We believe we've been put on this earth and found each other for a specific purpose. As more and more time goes on, we are starting to see that our kids are a very big part of that plan. I don't pretend to know the ultimate reason, maybe it's as simple as brightening up someone's day when they see 6 kids parade into church single file with matching outfits.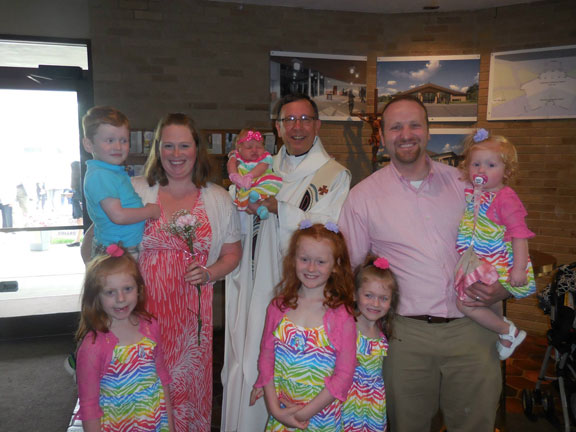 Who knows, but to that end, we've put total faith in the notion that overall, if we make ourselves open to that plan, instead of fight it – we'll be able to get the most out of the time we have on this earth. And maybe if we're lucky along the way, we can leave this place a little better off than it was when we got here.
For us, it's really not more complicated or deeper than that.
That doesn't mean we won't have hard times. And it doesn't mean that we figure we can skate through life saying "God will take care of us because we believe in him " – it just means that when we are faced with a situation that feels like more than we can handle (like the scary thoughts about bringing another human into this world), we can put those worries at his doorstep and not paralyze ourselves with the worry about so many things that may never come to fruition.
One of the better bible verses that I've seen to explain this idea is: Philippians:6-7.  If you get bored with bible verses, here's a real life example of how I interpret this message:
As a dad,  I experience this with my kids every day, and if you're a parent, a scenario like this happens to you daily as well.
We're adults. We know things that kids just don't know. It's not their fault. They just don't know as much as we do, and for whatever reason they don't always just trust us.
For example, I know that my kid is crabby because she didn't take a nap today and it's way past her bedtime. I know this without a shadow of a doubt because I know my kid, I know anatomy, and I've experienced this behavior in her like a million times. But when I tell her to go to bed so she will feel better when she wakes up, she doesn't believe me. She thinks she's smarter than me. She doesn't want to go to sleep! And while she may not know why she feels the way she does, she has certainly made up her mind that sleep is not going to fix it.
I'm not asking her to go to bed because I want to be mean, or because I am enforcing some arbitrary rule that doesn't really apply to her situation. I am asking her to go to bed because I love her, and I know what's best for her, and that if she sleeps, she'll feel better.
Right or wrong, that's how Laura and I feel about our relationship with God. Our faith in him tells us he has a plan for us that will make us happy, so we don't fight him on it, no matter how scary or silly it sounds. I know there will be tough times ahead, no one goes through life without them. But when they hit, we will have our faith to fall back on, and we'll just have to trust that everything is part of that plan and that everything is happening for a reason.
I want to point out, that we didn't always feel that way. From the time we met all the way through the first yearsof marriage, we had a totally different view on our faith. We went to church every Sunday, but our faith wasn't as strong as  it is today.
That all changed when the doctors told us we might not be able to have kids.
(I hope that wasn't too preachy… was that too preachy??? Look at the bright side, at least I didn't talk politics)
(but seriously… Donald Trump… stop it)
Our History
In August 2006 Laura and I got married, bought a house, a dog and settled in to start our lives together. We had everything all figured out. I was starting my career with visions toward climbing the corporate ladder, Laura was a nanny and at some point would either start or daycare or become a pre-school teacher. We knew we wanted 3 or 4 kids, but we had always thought that was going to be pretty tough. I'll spare you the details, but pretty much right after puberty, Laura was diagnosed with Polycystic  Ovarian Syndrome. Later on her doctors told her that if she wanted to have kids she was probably going to have to rely on fertility medication. So as soon we got married we started to look into it. The doctors seemed pretty optimistic at first and while they told us it was probably a long shot, we tried to conceive naturally at first.
After failing for the first few months, we decided to give the  fertility meds a try…. we were starting on a journey that we had no idea would test us so much. Anyone who has gone on that ride, knows how stressful and scary it can be.
Month 1… no luck. But we figured we were just getting started. Could be a bad break with timing, maybe we missed a window.
Month 2… no luck. A little frustrating, but no concern yet. We're just getting started.
Month 3… nope. Huh, that's kinda weird.
Months 4, 5,6…. Nothing. Uh-oh. We started to freak out.
The doctors gave us some advice to not give up. "These things just take time". But sprinkled in with their encouragement was a little dose of reality from time to time, "You know, some people just can't have kids".
That's when they decided they should do some advanced testing, starting with me. And that's when the panic really kicked in.
My first test came back pretty bad. Now the doctors saw issues on both sides of the equation and prognosis for us ever having kids went south pretty fast. That's when the real freaking out started. Both of us had never envisioned a life where we didn't have our own kids.
Month 7, 8, 9… Nope.
We found the patron saint of parenthood – St. Gerard, and started praying and praying and praying to conceive a child. Around this time we did get some good news when they retested me, and the results came back much better.
But it didn't seem to matter. Three more months and nothing. We grew pretty discouraged.
Months 10,11,12…
We began to come to terms with it around this time. Started trying to get over it, and put it in God's hands. We had our plan for 3-4 kids, but as the saying goes "If you want to make God laugh, just tell him your plan".
We talked about the possibility of adopting at some point in the future, and while we weren't giving up, the stress of it all was overwhelming. I remember how painful that realization finally was. We knew we wanted kids, but when we were faced with the very real possibility of never having our own, it killed us. We agonized over it. It took over our lives. It was all we thought about. The only thing we ever prayed about.
We decided to step back, and  take a break from "trying" and all that stress that came along with it. Maybe it just wasn't in the cards for us.
And then…
We were struck with real tragedy. In July of 2007 my dad passed away suddenly.
It rocked my whole family to the core. Our world had been flipped on it's head.
The months that followed still reign as the hardest times of my life. We were all in desperate need of something good.
Then… out of nowhere…
We conceived that August!
The timing was perfect!
The day I came home to that news, everything started to turn around. Not only were we elated, but when I told my mom the news it was the first time since my dad has passed I saw her smile for more than a moment.
 
We had prayed so long and hard for a baby. We had felt such pain over the fear of it never happening. Those days forever changed our view of the gift of parenthood. We had taken that gift of children for granted and thought nothing wrong of wanting a set number of children and planning to have  them exactly when we wanted to.
But, how quickly we forget. Even after all that, we still had "our plan" in our minds…
Now that baby #1 was here, we wanted to have another baby when Maddie was 2 , so the month before Maddie's first birthday, we decided to start "trying for baby #2" .  Based on the first go-around we assumed it would take another year on the meds to conceive.
But once again, we were reminded that our plans didn't mean much.
We got pregnant right away…
…with twins.
Talk about overwhelming. I won't rehash the craziness that ensued when we got that news (that's outlined in detail in blog post #3) but one thing was for certain, our plans were not for us to make.

It's hard to explain, but after that experience, we could never bring ourselves to do anything to "Plan" or not plan for a child again.
Conclusion
Lastly, it's probably a coincidence , but we just celebrated our 9th anniversary and we were watching our wedding video again the other day. I always pay special attention to my dads message, and when  I started writing this post,  I realized he was kind of prophetic  in his message to us on our wedding day.
Check it out… I promise you'll be stunned.