Wow – It's been a while since I sat at the keyboard for this. For that I sincerely apologize, especially since there has been no real good excuse for it. Time has gotten away from me, and things have been a little crazy with the holidays upon us, but there have been plenty of chances for me to get back to the blog, and I just didn't. At one point I had 1/2 of this post written, but let it sit on the computer unsaved for a day when the power went out….. that was awesome.
BUT – It's 5AM and I can't sleep. My mind is running, and sitting in bed thinking about everything I have to do for work and Christmas doesn't seem nearly as appealing as sitting here… typing to you. So – here goes. Hope you enjoy 🙂
It's Not All Unicorns and Rainbows
I've written a lot over the last 5 posts about how AWESOME having a big family is, and all the good that comes along with it. But, there certainly is a price to pay for all that my kids give me, and I'm not just talking monetary.  So I wanted to dedicate a post to some of the stuff that can get a little tougher when you have a big family. Don't get me wrong, the good WAY outweighs the bad here, but it would be disingenuous to act like there aren't some things that are harder when you're raising a women's basketball team (with a male coach).
There are a lot of things that we experience that probably all families experience, but to just a much larger degree (like bath time craziness or buckling car seats) and there are other things that I think are totally unique to big families. Here are the top 5 things that get a little crazy when you're rolling 8 deep (with 6 under 6):
1. Wake Up Time
As I mentioned in a previous post, one of the few times Laura and I get to ourselves is in the morning. Since we know the kids will usually get up around 6:30 or 7:00, we try and get up around 6:00 to just lie in bed and ease into the day before the madness ensues. Here is how that madness typically goes down: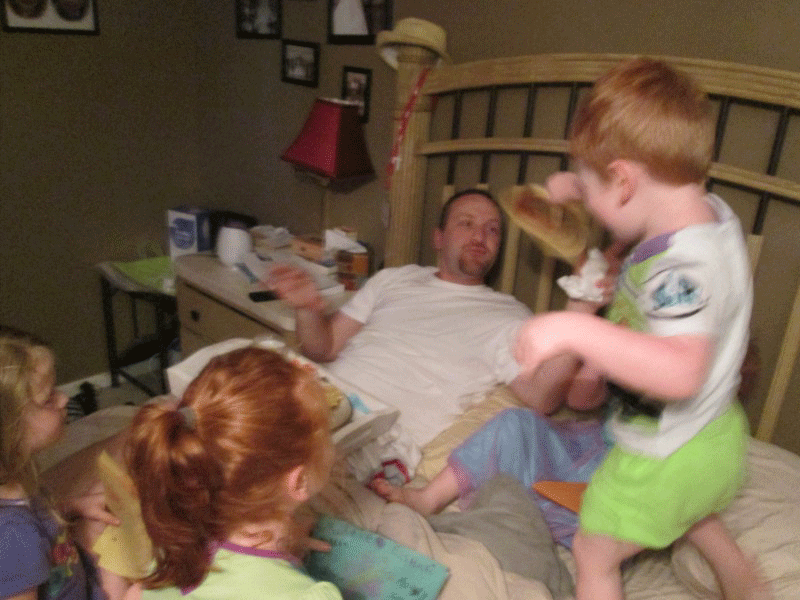 Ben wakes up. He has his own room, so he's there is no one in there to distract him, so he falls asleep the earliest. Hence, he's the first to wake up. And when he wakes up… HE'S BORED! So he plays in his room for about 5 minutes before he realizes he's had enough of being in his room. So he starts saying very loudly "IT'S MOOOOOORNING! TIME TO WAKE UP"…
This may or may not wake up the three oldest girls, but he shares a wall with Fiona who this ALWAYS wakes up. Unfortunately, she's not as pleasant in the mornings as Ben and doesn't talk yet. So she opts for the blood curdling scream. It makes any farmhouse rooster sound like Alan Allman.
This wakes up 1 of the girls. Never more than 1, which is very strange. And never the same one, just randomly one of them always wakes up, drags themselves out of bed, stumbles into our room 1/2 asleep and with the pride of a young reporter breaking a hot story says "Ben is up!"
To which one of us always reply's "OK, go let him out"
She stumbles over to his room, and like Charlie Brown trying to kick the football, always get's run over by Ben the second that door is cracked.
Fiona is still screaming
Ben runs into our room – "WAKE UP MOMMY, WAKE UP DADDY! IT'S MORNING"
Laura and I are up, but that doesn't mean we want to get out of bed, so what technique he uses varies from day to day – but he is bound and determined to get us up.
By this time, the girl who let Ben out of his room is recovering from the steam roll and walks into their room to grab the loudest toy available, ensuring that the other two girls are properly
"accidentally" woken up.
Fiona is losing her mind by this point
After careful contemplation, Ben has finally decided on which move to use. He's got some favorites for sure:

The Open the Shades move – where he opens the shades, points outside at the sun and says "See I told you! It's morning! It's time to wake up!".
The Eyelid Shove, which entails him walking up to my bedside, getting 1 inch from my face and with the stillness and precision of a surgeon, reaches into my eye cavity, gently presses on my eyelid and does what I've been too lazy to do all morning, opens my eyes for me.
But his favorite, and most effective move by far is The Dream Crusher, where he climbs up onto our bed, somehow manages to gain a running start to channel his inner Hulk Hogan off the ropes elbow smash and almost like he was aiming for it, lands on my groin

Fiona wonders what the hell she has to do to get some attention around here.
I don't even know how to set an alarm on my phone, and I don't need to because there will never be an app as effective as The Dream Crusher.
2. Getting Sick
No one likes it  when someone in the house is sick, but at the Esshaki house -we follow strict Outbreak protocols when we see a runny nose. Once patient zero is identified they are isolated immediately, banished into their room with a barf bucket, a towel, an iPad and a fist full of Lysol wipes. So far our success rate in containing an outbreak in the Esshaki house sits right around .0001%. Most of the time all this does is delay the inevitable, ensuring that the virus will stay in our house for the better part of a month as it daisy chains through our kids immune systems like it's training for a big fight, just before a stronger, mutated version knocks Laura and I on our butts for a week.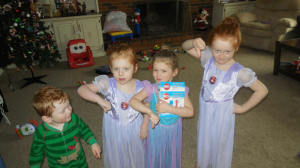 The worst ever was lice! Last December we got a note home from school that there were a few cases of Lice in the school. It was New Year's Eve last year when Maddie started itching her head which prompted the call I got at work from Laura that was equal parts sad and hilarious. I was sent to the store on a mission to by every lice cure in stock, and by the time I got home with 6 bottles of lice potion, combs and kits, the whole house was already in garbage bags. We started combining our hair around 6:00pm and by the time the ball dropped we were about halfway done. I've been to some wild New Year's Eve parties before, but nothing compares to bringing in the new year on your knees, combing a crying kids hair inch by inch. Between the bright lights, the harmony of Ryan Seacrest and a child screaming, and the intoxicating aroma of tea tree oil saturating the air, I don't think we'll ever forget the way we brought in 2014.
3. Cleaning
When you have a big family a c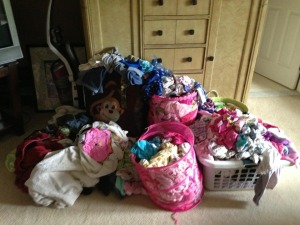 lean house is a fantasy. Laura spends most of the day cooking, doing laundry  and washing dishes. Literally, every meal fills the dishwasher. Every day there are at least 4 loads of laundry. I remember watching the kids for an hour while Laura went to the store. Within 5 minutes the family room was a mess, so I banished the kids to the living room while I cleaned. When I went to retrieve them to let them in the family room I was greeted with a huge mess in the living room. While I forced them to help me clean the living room Ben somehow managed to sneak away and dump all his toys back in the family room. When Laura got home I was curled up in the fetal position sucking my thumb while Ben and Sophie took turns trying out variations of The Dream Crusher on me as I wept.
Our house is always a mess. The sink always has dishes in it, and there are always clothes on the floor to fold. If you are going to come over without 72 hours written notice, please keep your shoes on –  I will not be held liable when you step on a lego and wish you had never been born.
4. Going Anywhere!
I often find myself telling people that this is by far the hardest thing about having kids. For me it's the most in my face difference from my life before kids to my life after. Before kids, when you wanted to go somewhere, you threw on a coat, put on some shoes, jumped in the car and you were on your way.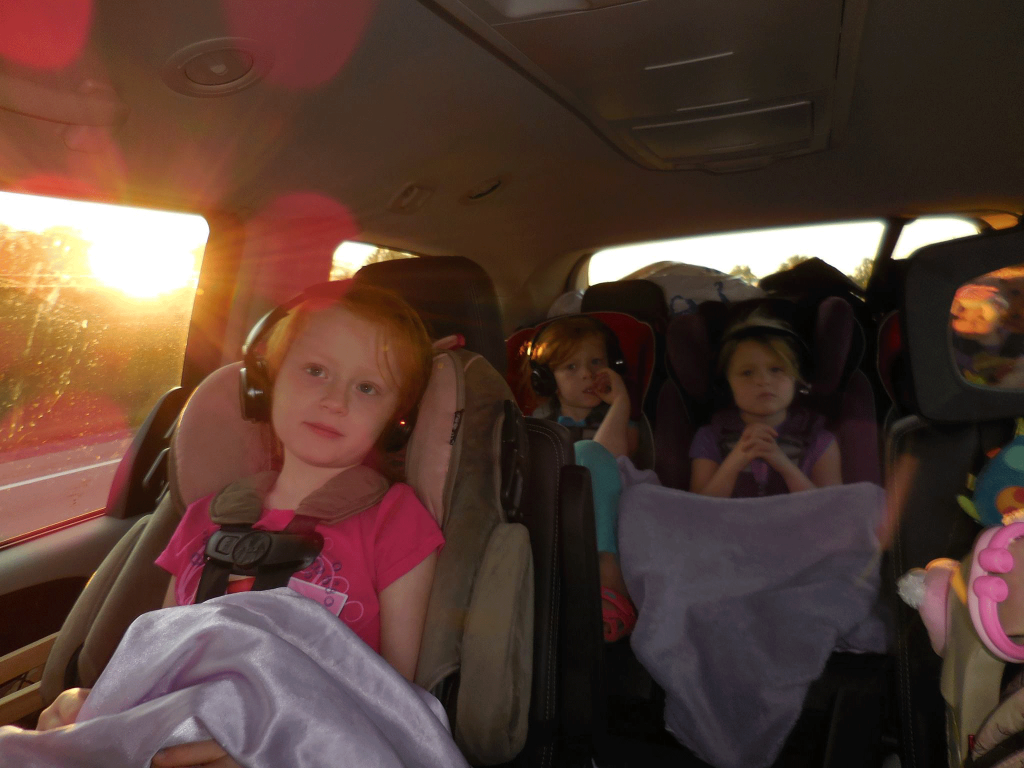 Now – it's like a Chinese fire-drill every time you leave the house. Let's take our weekly family trip to Sunday Mass as an example.
8:15 AM – Get up! Mass starts at 10:00, so we all need to be up and out of bed by 8:15 or we stand no chance at making it on time.
8:45 AM – Finish breakfast! I don't care if you saved all the marshmallows from your lucky charms and are just getting ready to dive into that sugary glory. If it's 8:45, the bowl goes in the sink!
8:45 AM – 8:50 AM – Brush teeth! Sophie, we only need to sing the ABC's once!!.
8:50 AM-9:15 AM – Laura starts dressing the girls while I get Ben. While she has to put on tights, dresses and tops for 4 people, she somehow always manages to get done before me.
9:15 AM – 9:35 AM  – Laura starts brushing all the girls hair, while I get showered and dressed. I desperately try and enjoy a hot shower through the screaming and crying coming from downstairs as Laura is powering through those natural curls on the girls.
9:35AM – 9:50 AM – Laura hits the shower and dresses while I get the kids in the car. This is the closest thing to hell on earth that I have ever experienced. Boots need to be put on, Coats need to be zipped, 4 kids need to be marched into the van while I carry Fiona into her car seat and start the dreaded "buckling in" process. Once I get Fiona in, it's on to Ben who thinks it's hilarious to pretend he's Houdini every time I get one arm in!! Meanwhile I'm smashing the 3 week old bag of goldfish under my feet as I struggle to make it to the back seat to help Sophie who can never seem to get a buckle to fit over her dress. Then as the last buckle is clicked and I start to see the light at the end of the tunnel, I realize I need to slowly back out of the van while my neck and back are on fire from leaning awkwardly into the backseat, all without catching my pants on the DVD screen that is blaring the Shrek Christmas special!!!!!
9:50 AM – Laura get's in the car
10:05 AM – 11:00 AM – Arrive at church and pray for forgiveness for all the bad words I used to describe the Shrek Christmas special 🙂
5. Eating
If you didn't have to eat, having a big family would be at least 50% easier. You just can't win.
Eating Out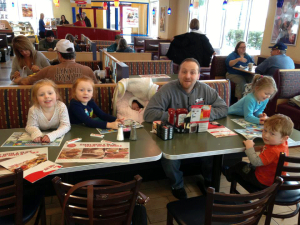 If you eat out you can expect to wait 20 minutes while they find a table that fits 2 adults, 5 children a high chair and booster. You'll be breaking up fights over who had the green crayon first, playing 3 simultaneous games of tic tac toe while you try and guess at what to order. You'll order 4 kids meals, 80% of which will end up on the floor. You'll end up apologizing for the mess to the waitress, vacuuming the floor with your thumb and index finger and tipping the waiter 30% because you saw that look in her eye – and you know you just took her to the brink. Then after the kids are in bed – you get to microwave your food and finally eat. Then at the end of the month when you look at your credit card bill you wonder how you spent $72 at Pizza Hut.
Eating In

On the weekends I like to make a point of making breakfast for the kids. It's a special thing I've done since Maddie was old enough to eat at the table and what was a cute exercise of making a few eggs or flipping a few pancakes has turned into a full service menu with me as the short order cook.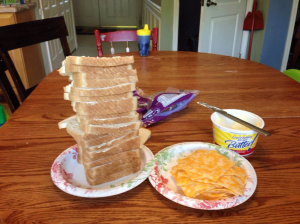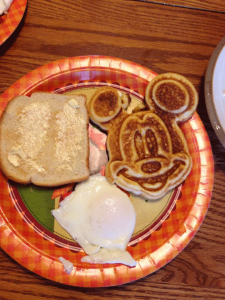 Izzie and Maddie want eggs over easy, Sophie wants waffles with no syrup and butter and Ben wants Mickey Mouse pancakes with no butter and syrup. They all want french toast and Maddie wants regular white toast to dip in her eggs. So I've got the toaster pounding out Eggos and Wonder Bread, the Disney pancake griddle going, an entire loaf of bread cut in half for french toast, a bowl of a dozen scrambled eggs, a bowl of pancake mix, two egg pans and 1 large skillet for the frensh toast.
And for me? A cold pop-tart…