It's been forever since my last post. I've got plenty of excuses, but no good ones. I have about 4 posts started but I had to put those aside when I saw this.
Laura sent me this text on my way to work this morning…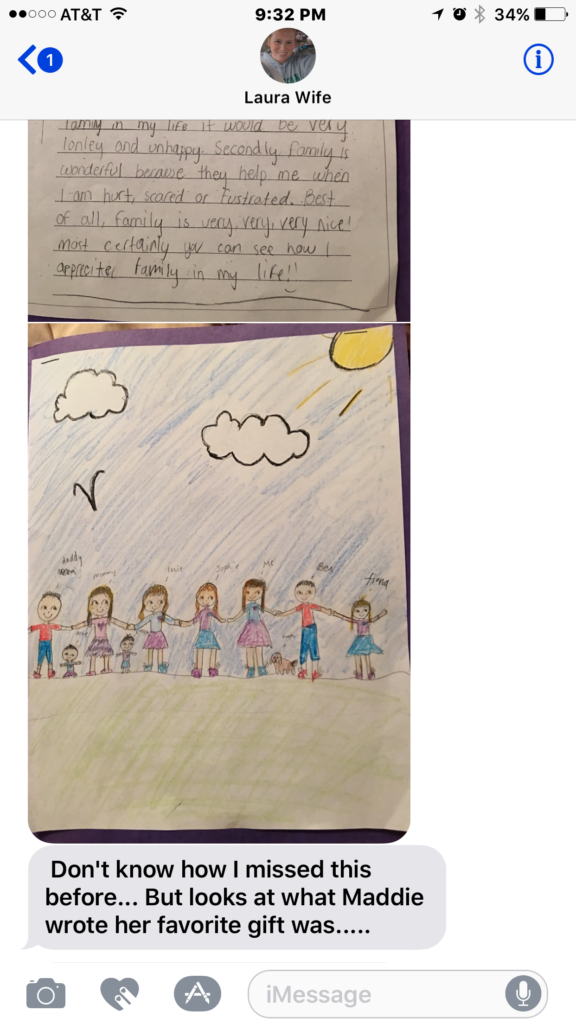 Laura was cleaning up some clutter in the kitchen and came upon a huge pile of the kids school papers. She started to sift through them to toss in the trash, when she stumbled on this mini-essay and drawing Maddie did in her class just after returning from Christmas break.
I was driving to work when this text came through, so I didn't see it right away, but when I hit a red light I took a quick peak. By the time the car behind me was honking at me since the light had turned green, the first tear had just finished running down my cheek. That's when I knew I was writing a blog post tonight.
Actually I should correct that, I would be "co-writing" a blog post tonight. More on that in a second.
Maddie's assignment in class: Write about the best gift you received, and draw a picture of it.
Here is a photo of her actual essay and drawing: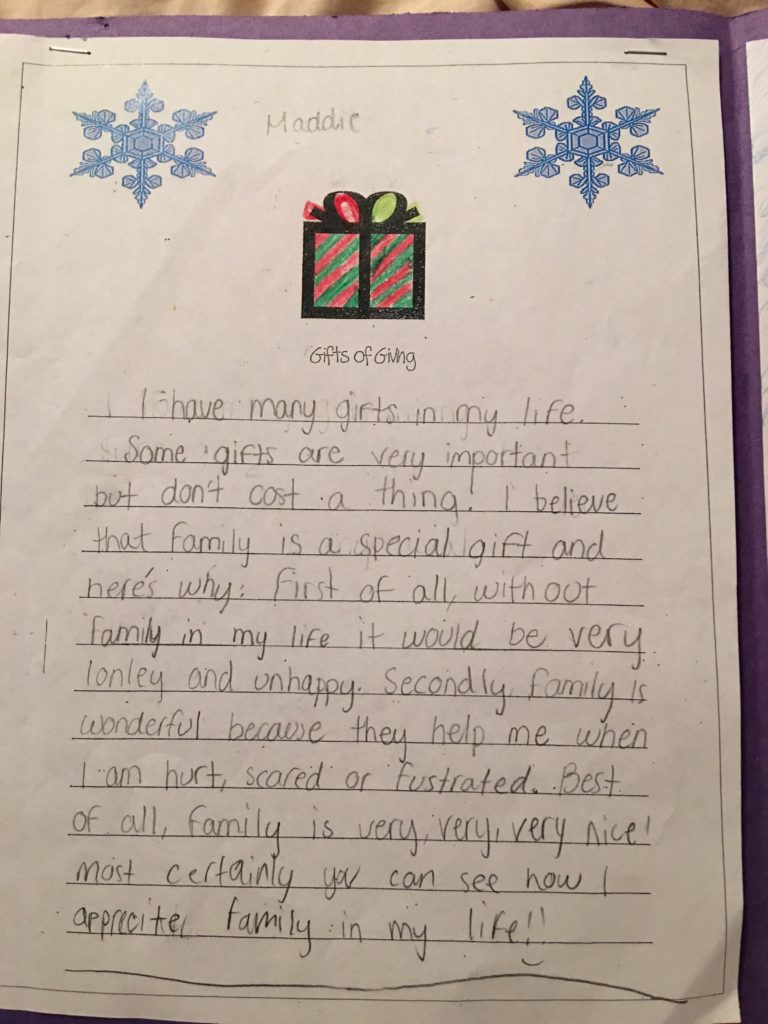 I know you all like to hear me ramble on and on about how awesome big family living is, but when I got this text from Laura  I figured you shouldn't have to just take my word for it. You could take hers. So here goes nothing…
"I have many gifts in my life."
The number of toys, dolls and Shopkins in this house is outrageous, so you would think the gifts she would write about would be material things.  But her next line quickly hints at a deeper meaning to how she defines a "gift".
"Some gifts are very important, but don't cost a thing!" (note the explanation point. She's not playin)
The gifts that are top of mind for her aren't things. I think I was 25 years old before that was the case for me. Who is this kid?! ? Wait… Come to think of it. I know who she is…
…She's the gift that I received when I was 25 that made me realize that.
"I believe that family is a special gift, and here is why: First of all, without my family in my life I would be very lonely and unhappy."
I know I have mentioned it before on this blog (but it's been so long, there is no way you remember), but one of the most frequent concerns we hear from folks about our big family is something along the lines of "You won't be able to give each child the attention they deserve". As if to imply that we have a finite amount of love that we can distribute and with each child the slices we dole out get thinner and thinner. Maddie nails it here by explaining why this is an invalid way of thinking, in only the way that an 8 yr old can. The Love slices don't thin with every child we bring into this world, rather the Family Love pie just get's bigger. Maybe Laura and I can't spend as much time with Maddie as we could if she were an only child, but the amount of love she get's from us and her siblings dwarfs what she otherwise would get on a daily basis.
One of the most delightful compliments I get as a parent is when other people tell me "your children are just such happy kids". I love hearing that. But I wish I could take the credit for it. I truly believe the reason all my kids are always smiling is because they always have a playmate, a partner in crime, a kid to crash monster trucks with, a pal to sing Frozen with, a person to read them a story and an older sis that will show them a magic trick.  
"Secondly, they help me when I am hurt, scared or frustrated."
Not only are lots of siblings a lot of fun, but they've also got your back. There is something to be said about strength in numbers. If I'm an only child and there is a broken picture frame in the hallway, chances are pretty good Mom and Dad are going to realize that I was the one who broke it. But with 6 brothers and sisters (who have somehow mastered the concept of the Prisoner's Dilemma, which I barely understand) that investigation is usually more trouble than it's worth.
More directly, Maddie points out that she's got access to an entire ward of junior medics that can track down a Nemo band-aid before any blood hits the carpet. And while we all get scared, I think we can all agree we'd rather be scared with a bunch of other people around, than scared and alone. Or at the very least, the boogie monster will be full by the time he gets to my bed (I'm pretty sure this is the real reason Sophie sleeps in the bed furthest from the window).
All of these are gifts, but they are all small pieces of a much larger gift that a big family provides… They always have the comfort and security of knowing they are loved by many. And when you think of it, what else do you really need to be happy?
"Best of all my family is very very very nice!" (again. totally not playin)
She's right. Her family is very  very very nice. Once again, as parents I think Laura and I would love to take a lot of the credit for raising "very  very very nice" children, but while we've definitely played a big role in teaching them love, manners and respect, I have to give them a big chunk of the credit.
The opposite of nice is mean, and I think that when people are mean (especially kids) it's because they are unhappy. She just got done telling us how happy she is because of her big family.
Also, I think there are a lot of organic lessons that come along with being 1 of 7 children in a home that lead to becoming a "very very very nice" child. For example, empathy. You are rarely alone, so 24/7 you are always interacting with and observing other peoples emotions translate into actions so those EQ muscles get lots of training in a big family. Additionally, my kids get lots of opportunities to share. Sharing isn't an option when you have 6 siblings, it's a way of life – and even though each child has toys that are "theirs" – there aren't many things in this house that belong to one person (besides my toothbrush)…(Fiona has totally laid claim to that).
I can't remember the last parent teach conference where we didn't hear something to the effect of "your child is so sweet and caring, and are always helping out the other kids in class". Our kids are used to having someone pick them up when they are down. For them, it's normal to offer a kind word and a helping hand, and it's been amazing to watch them take that with them outside of our four walls.
"Most certainly you can see how I appreciate family in my life"
Maddie wraps up her essay with words I find to be a bit prophetic. On the surface, this whole essay can leave no doubt that sitting in that classroom as an eight year old she was very appreciative that she comes from a big family. And while I probably shouldn't give her this level of credit,  there is a small part of me that wonders if she means something a littler deeper than that. I wonder if she sees what I see when I look at these "happy", empathetic, grounded, "very  very very nice" kids. And that is that one day they will be grown men and woman that will play an immensely positive role in our society – and they'll have their big family to thank for it.
p.s. I am so jealous of her handwriting.
p.s.s Maddie thinks I am the same height as her 5 yr old brother.