If you're going to have a site called BigFamilyCoolDAD, I guess you're pretty much obligated to get a post out there on Father's Day – so here goes nothing.
Today we all will sit back and reflect on whatever that word, FATHER, means to each of us. For some it means you have to go out and buy a funny card and a decide between another power tool or a tie. Wives will boast about husbands on their Facebook status and Instagram and pretty much every profile picture takes a 1-day backseat to that awesome throwback of dad.
Hopefully, for most, it goes beyond gestures and we actually take the time to really stop and reflect. To truly try and appreciate all the things "DAD" did for us. The first stop on this reflection train is all the fond memories you had – playing in the backyard or the driveway, family vacatio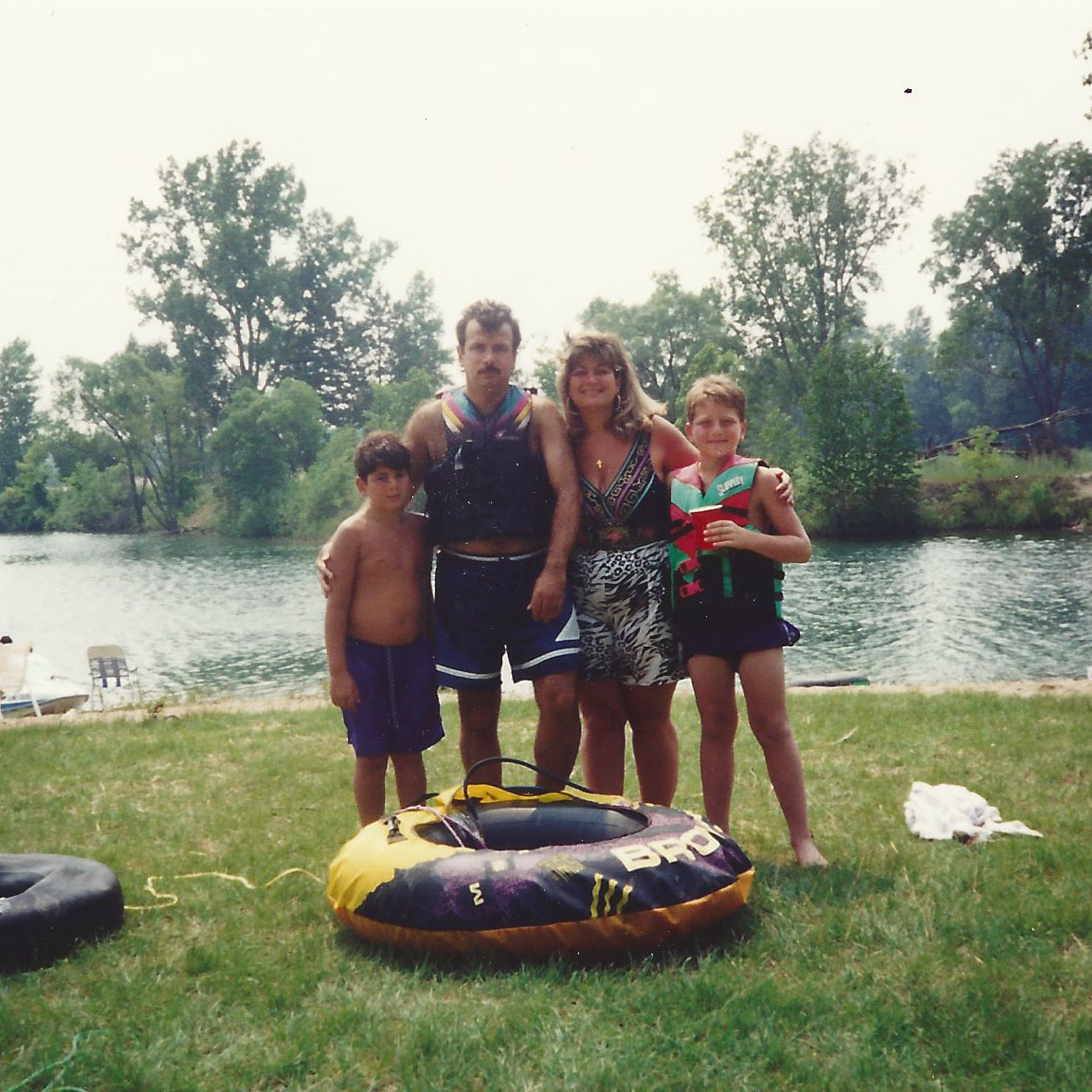 ns, holidays, etc. But I challenge you to keep thinking, keep digging, keep reflecting – because while the memories are awesome that's all they are – memories.
What about all the things he did and taught you that you use every single day.
My Dad left this earth way too soon,  about 9 years ago, so like a lot of you reading this who have your own children – today has always been a very bitter sweet day.
But it shouldn't be.
It shouldn't be because the fact that I feel that sting of my Dad being gone, that means he did something right. And if I do my job as Father right, there should be no bitterness in a day like today, because when you really reflect on it,  I've paid him the most honor possible by paying his lessons forward to my own children.
As I sit and reflect (on my 2nd 3rd beer so far) here are 10 things I know without question that I learned from my Dad.
How to play soccer
How to watch the Lions (Life would have been so much sweeter if he was a Packers fan)
How to defend my family and friends
How to give what I don't have
How to respect my elders
How to lead from the back
How to treat women
How to put problems into perspective
How to stay optimistic in the face of pain and fear
How to love
And while that's no small list, I bet you glossed over that last one.
I get it – it's cliche, it's expected, it's obvious. I mean, what father doesn't teach his kids how to Love?
STOP.
Think about that for a second.
We'll come back to that.
Item's 1-9 on that list were taught to  me either in 1 conversation, or over the course of a couple of experiences in my childhood that stand out:
#3 – How to defend your family and friends. I learned this one every time I went and watched a soccer game of his. My Dad was the sweeper and his idol was Bob Probert. If anyone messed with someone on the team, my Dad was in their face.
Off the field, I'd see him argue a point with one  of his siblings then 5 minutes later defend their point when someone else attacked it. He didn't care if he agreed with you not, if you were family – he had your back, no matter what.
#4 How to give what you don't have. Like I am sure a lot of you can relate to, looking back on my childhood, even though I never knew it at the time, we weren't very well of financially. I think one of the reasons I never knew we were struggling, was because we were always giving so much to others. Growing up in a family of 5, in a small ranch in Southfield, we almost always had other people living with us. So growing up, I didn't know any better. I always just assumed that there wasn't a question – if you had the means to do it,  you opened up your house to people in need.
I experienced how he put my brothers   and I through private school during a time when paying the mortgage every month wasn't a given. Looking back and knowing how little we had during those times, it really hammers that lesson –  you don't always need to give only from your surplus.
#7 – How to treat wome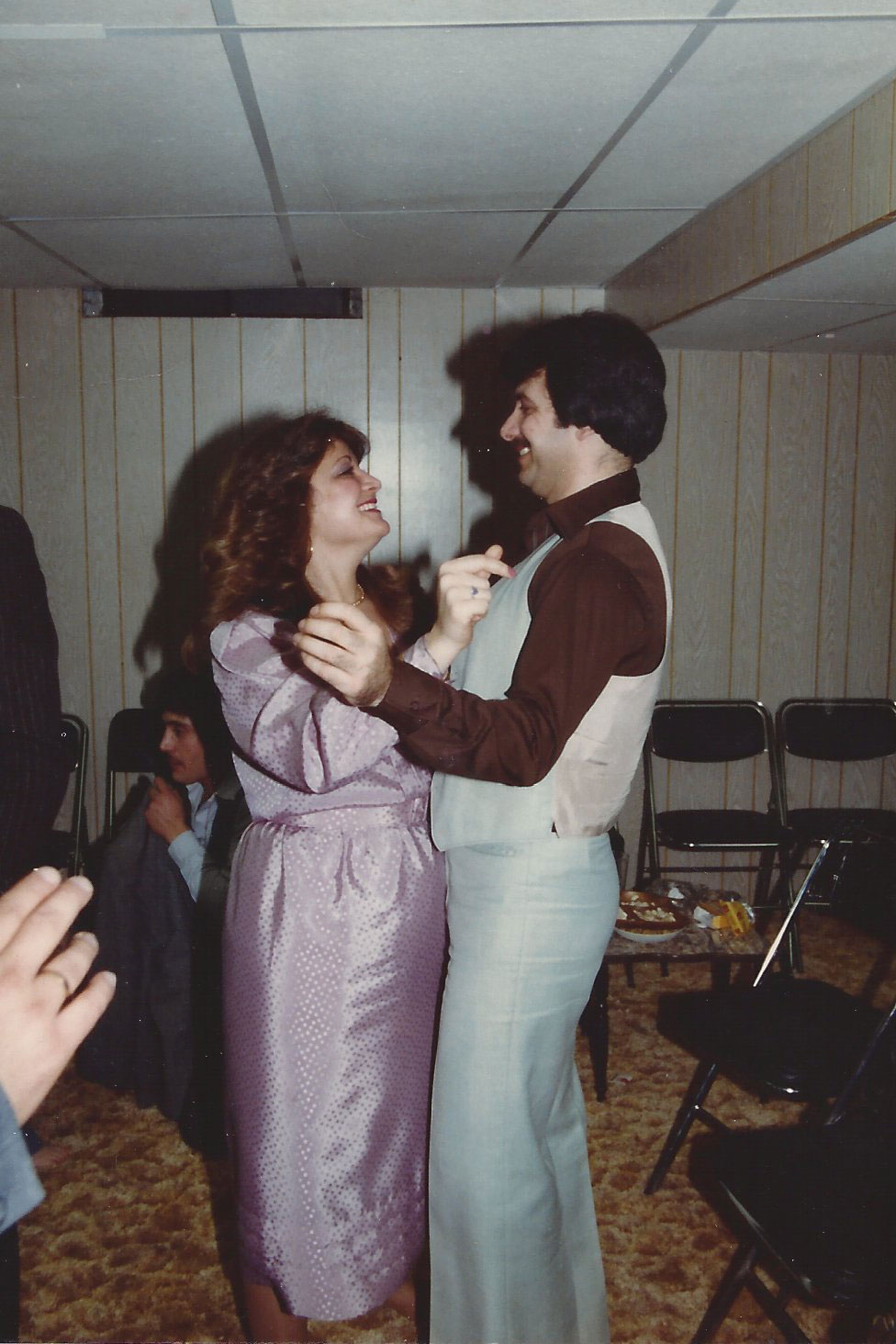 n – Growing up in a culture where men expected their wives to be submissive, my Dad never went there. If we were at a party or wedding, while all the other men were up at the bar hanging with buddies, my dad was either at the table holding my mom's hand or on the dance floor holding her tight. As kids, we watched him surprise her with gifts and saw firsthand how he worshiped the ground she walked on.
He never took her for granted and while he never gave me one formal lesson on how to treat a woman, I learned everything I know by watching how he treated my mom. I got to witness what it meant to Love a woman with your whole heart, my entire childhood.

Which brings us back to #10, "How to Love" – He was working on teaching me that one before I was ever born and kept giving me lessons up until the day he died.
The fact that I even was born is a great example. After having their first child soon after being married, my mom and dad suffered through 4 miscarriages. I can't even imagine that pain and even though the doctors recommended sterilization, their love for each other would eventually manifest itself in me and eventually my little brother.
But it didn't stop there.
Growing up, every traditional lesson a father needs to teach his son was accompanied by a lesson on love.
Whenever discipline was doled out, it was accompanied with hugs and encouragement.
When teaching me that fatherly right of passage, how to fight and how to defend myself, he always reminded me that I also had an obligation to defend others who were vulnerable.
When I watched how he ran the family business, the lasting takeaways I have are not accounting or marketing techniques, rather how he treated every employee and every customer like they were a part of our family.
Even on the soccer field, there were lessons on how to pass and how to shoot, but every time we watched him on the field we saw the pride, love and passion he had for the team and his teammates.
One of my favorite lessons was the lesson he taught me about not holding onto anger.  We got in this huge argument late one night and we both went to bed fuming. Then when I woke up and saw him in the hallway and he said "good morning", I gave him all kinds of attitude like any angry 16 year old. I was ready for two days of the silent treatment. But he just laughed at me and said "Don't be stupid, that was yesterday, it's over – I love you". I felt like an idiot for being mad. That's always stuck with me.
And then there were the lessons that happened when he didn't know we were watching. Like when he congratulated the homeless woman on her pregnancy when it was obvious she was shoplifting food from his store under her hoody.  Or when I'd watch him walk up to the guy after a particularly hostile soccer game, who he had just been screaming and shoving with, to apologize, shake hands, or even sometimes "hug it out".
And if you knew my dad you know there wasn't anything weak or timid about him. He was a man's man!
I don't know if it was his nature, or influence from his Dad, or if he even meant to do it at all, but when it came to how to love – he took lead in our house. Of course my Mom was a huge influence and taught me more than I can ever thank her for about how to love (just wait until my Mothers day post mom 😉 but watching my Dad be an example of how to love day in and day out, must have sunk in over time.
So on Father's day, not only do I reflect on these lessons, but I try and make sure I'm doing him justice and passing these along to my little army.
I think you can tie a lot of what's wrong in our world back to the failure of dad's to showcase how to love. As a society, in general, we treat each other like garbage. It's great that we know the family business, have integrity, are physically and emotionally strong men, and even pick up a pick-up line or two,  but what about love?
If you've read my blog or have known me for any amount of time you know I am Catholic and try to live my faith the best I can, but I don't care what you believe about religion, all it takes is a quick look around to see that this world lacks love. If you don't believe me, watch the news for 5 minutes.
We're a hot mess.
And as emotionally charging as these recent news stories have been, people don't "talk" or "discuss" anymore. That's been replaced with a tweet or a Facebook post that makes sure  you understand that to disagree with an opinion makes you a bigot, a racist, an idiot, intolerant or just a plain a$$hole.
Whoa! Why do we hate each other so much?
Why are we so callous about ruining someone else's day for the sake of our own pride or opinion? When did being right take precedence over being kind?
How in one generation can I go from watching my Dad shove a guy during a soccer game then go for drinks, to "you're an a$$hole if you think that".
Where is the love?
I believe it's with us Dad's. If our culture has any shot of getting ourselves out of this mess and reversing course, it has to start with us Dads, and it has to feed into our children's lives.
I'm not going to be one of those lame blogs that cites a bunch of googled sources, but the notion that a child, whether boy or girl, is just as or more likely to be influenced by their father as they are their mother, is not a new idea. What we do as Dad's matters. So I'm using this father's day as an opportunity to reflect on those those lessons that I need to teach my kids. I'm going to make sure those lessons go a lot farther than how to make a diving save or fly a plane.
I want to make sure they know how to live a life for other people, put family first, and love other people as much or more than they love themselves. If I can manage to pull that off, it won't matter how many memories they have of me playing in the driveway or throwing them in the pool on vacation. Those memories will be nice, but they won't change the world. The only way I have a chance to do that is to raise 7 kids who know how to love with all their hearts.
Here goes nothing…